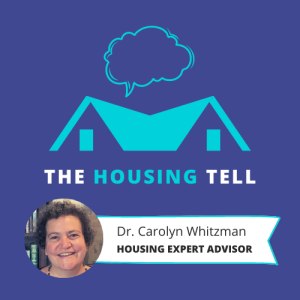 Canada is in the midst of a growing housing and homelessness crisis which continues to destroy lives and risk our collective environmental, economic, and social future. Several countries have been successful in scaling up non-profit and affordable housing by the equivalent of two million homes in a short period of time (10-15 years) in response to crisis.
We can do it too. We just need the political will—and a road map. This blog is the start of a road map.  
This blog was written by Dr. Carolyn Whitzman, Expert Advisor, Housing Assessment Resource Tools (HART) project, Housing Research Collaborative, University of British Columbia.
This blog marks the launch of our new partner blog series, The Housing Tell, which platforms noteworthy perspectives, solutions, and ideas from across Canada's right to housing movement.
Need and Precedents for a Two Million Homes Program 
A Two Million Homes Program would require reshaping existing National Housing Strategy (NHS) programs in Budget 2022 into one coherent program aimed at reducing housing need and eliminating homelessness—the stated goals of the Strategy. Many recent reports prove that the two biggest programs (the Rental Construction Finance Initiative and Co-Investment Fund) comprising the majority of the $80 billion funding for the NHS, are producing close to zero homes that are affordable to those in core housing need. The average household in need has an annual income of $23,000, and 80% of households in housing need have incomes below $36,000. In order to be affordable, this would equate to maximum monthly housing costs of $575-$900. 
Canada has successfully risen to this kind of challenge before. The Canadian government directly built and financed over a million low-cost homes for returning servicemen and their families between 1944 and 1960, when its population was 12 million.     
Sweden (with a population that was then a little over six million) produced one million non-profit affordable homes between 1965 and 1975, the backbone of their more environmentally sustainable cities.   
Singapore (a low-income, recently independent country, with a population of about one million at the time) produced 150,000 public homes between 1964 and 1974, which contributed to the high level of economic development and social stability it has to this day.   
Canada now has a population of 38 million, comprising 14 million households with an average size of 2.5 people. As of 2016, almost 1.7 million of those households—12.5%—were in housing need. Canada in 2022 is much richer than Sweden was in the 1960s, let alone Singapore, at the time of their ambitious housing programs. In current Canadian population figures, these builds were the equivalent to 6.3 million non-profit homes (Sweden) and 5.7 million (Singapore) non-profit homes over a decade.  
Is eliminating core housing need and homelessness too hard for us today? 
How It Would Work 
A Two Million Homes Program would respond to the three biggest aspects of the housing crisis:  
The hemorrhage of existing affordable housing, with 15 homes at $750/month lost for each new home created between 2011-16;  
The need to scale up Canada's non-profit housing stock, neglected for three decades, from 4% to 20% – the target of European countries with the least homelessness, such as Finland; and  
The financialization of housing and land that makes living in Canada's largest cities increasingly difficult for those not earning windfall wealth from homeownership.  
To achieve these aims, a Two Million Homes Program would require three elements:  
Protection of existing affordable homes through rent control and tenant protection, alongside energy and accessibility upgrades;  
A scaled-up non-profit housing program that focused on the needs of those most vulnerable; and,   
Addressing financialization through taxation measures.  
Four Key Elements: Rights and Evidence-based Targets, Government Land, Industrial Production of Housing, As of Right Zoning  
A Two Million Homes Program would have rights-based annual and 10-year targets, maximizing resources and prioritizing those who are homeless and living in inadequate housing. It would create homes that are affordable, adequately sized, accessible, and energy-efficient. It would also address the ongoing net loss of affordable homes through financialization.  
Targets  
The federal government should begin by sticking to one clear definition of "affordable housing" for all its programs: homes that cost no more than 30% of before-tax household income, including utilities.  
It should focus its programs on the three income groups most likely to be in "core housing need": those households who are in unaffordable, overcrowded or inadequate homes, and those who cannot afford the median rents in their communities.  
These three groups are:  
Very low-income households whose annual income is 20% or less of the area's median household income (most commonly on government benefits); 
Low–income households whose annual income is between 21-50% of the area's median household income (most commonly reliant on minimum wage employment); and, 
Moderate–income households whose income is 51-80% of the area's median household income (typically, key workers such as nurses, teachers, construction workers, etc.). Targets would include household size.  
Priority populations, such as single mothers, Indigenous households and people with disabilities would have needs met through sub-targets. Targets would factor in the net loss of affordable homes, as well as population growth and change. Fortunately, this data is available through the Housing Assessment Resource Tools (HART) project.  
Scaling Up Affordable Supply Starts with Land  
The program would start with non-profit housing on government land, which international research agrees is the key to low-cost homes. If all suitable and well-located government land – federal, provincial, municipal, as well as land held by agencies such as public transit – were leased at no cost (including building on top of libraries, health centres, post offices, transit stations), 15-30% of housing cost would be eliminated without direct subsidy. This approach has been successful in Vancouver, and modelling in Kelowna has shown that it has enough government land to meet housing need. Research from Vancouver shows that housing that has its mission of perpetual affordability (not 10-20 years as for federally subsidized speculative developers, but a minimum of 99 years) can provide a further 20-25% savings, simply by eliminating the maximizing profit element from affordable housing. 
Reduce costs and maximize energy efficiency and universal access  
The second element is scale: industrial production of housing provides scaling benefits that can result in an additional 10-20% cost savings. It can also support innovative green technologies such as modular prefabricated housing, especially important in the North with short on-site construction seasons. Because of three decades of neglect by federal policy, there are few large non-speculative housing developers in Canada. However, there is at least one lead non-profit developer with over 500 homes in almost every province and territory. Community Land Trusts can bundle assets of smaller developers into collaborative entities to mitigate financial risk and maximize specialist expertise. These non-profit partnerships would need to include a separately funded Urban, Rural and Northern Indigenous strategy.  
End exclusionary zoning and promote as of right non-profit and affordable homes 
As of right zoning can reduce development time and uncertainty, saving at least another 5-15% in financial, administrative, and holding costs. There are moral, environmental, and economic reasons to end exclusionary zoning—the practice of restricting land to single-family homes in large swathes of Canadian cities. However, up-zoning allows multi-household homes needs to prioritize affordability, by eliminating parking requirements ($40,000 per underground space), providing density bonuses for deeply affordable homes, and creating maximum new single-family home sizes to discourage Monster Homes.   
By taking advantage of land, provider, and regulatory efficiencies, a 50% reduction in home cost could be achieved before any direct subsidy. If we layer this onto 1) targeted rental subsidies and technical assistance to non-profit housing providers —as is the case in Quebec —along with 2) increased shelter allowances 3) directly providing or guaranteeing low-cost finance and, 4) financing the municipal acquisition of speculative rental at risk of becoming unaffordable, Canadian non-profit homes could have rents of $575-$900. 
The Role of the Federal Government  
Housing is critical infrastructure. Well-located and well-insulated homes are central to net-zero Greenhouse Gas emission goals and would reduce the risk of deaths from heat waves and other impacts of climate change.  
The federal government can focus on reducing the net loss of affordable housing caused by financialization, through anti-speculation, taxation reform and raising interest rates, as well as offering alternatives to unaffordable homeownership. It should take the lead in non-speculative housing investment, while transforming multi-lateral funding agreements with provinces, territories, cities and regions, into instruments to achieve targets through integrated planning.  
The Role of Provinces and Territories  
In return for Canada Housing Benefit and housing infrastructure funding, the federal government should require provinces to meet ambitious affordable housing targets. Provinces would need to redress inhumane shelter allowances and minimum wages, which have barely increased in three decades, to amounts that low- and moderate-income households can live on. Provincial and territorial shelter allowances of at least $600 for a single person in a studio apartment, $750 per month for a couple without children requiring a one–bedroom, and $900 per month for a single parent with one child requiring a two-bedroom home, and a minimum wage of at least $20 per hour, would reduce pressure on demand-side subsidization and reduce homelessness.   
Provinces and territories would need to provide adequate and timely social and health services in and near homes, including scaling up home care and non-profit long-term care.  
They would need to establish or re-establish public annual assessment systems to address windfall gains from home speculation, which can be addressed through municipal property taxes and federal anti-speculation taxes. Further, they would need to enable municipalities to assess properties in a progressive fashion (e.g, 1% of assessed value up to $1 million, 2% of assessed value $1-2 million, 3% of assessed value over $3 million, similar to BC's additional taxes for high-valued properties). They would require charging the same assessment rates for commercial and residential properties, as this unfairly penalizes renters.   
Further, provinces and territories would be required to have strong rent control systems that eliminate vacancy decontrol (raising rents when tenants are evicted) and enable rental replacement (allowing tenants to return to redeveloped homes at the same rent).    
Lastly, provinces would need to require and enable municipalities to create equity-based zoning systems, including mandatory inclusionary zoning of 20% social housing and 20% 3+ bedrooms in all for-profit developments.  
The Municipal Role 
The federal government would require municipalities —in return of housing infrastructure funding—to create ambitious 10-year housing plans that allow them to meet income-based, household size and priority population targets. It would require municipalities to immediately develop as-of-right zoning systems to rapidly accommodate non-profit and affordable homes in well-located areas. They would also require municipalities to produce annual reports monitoring progress on these targets.   
Revised zoning would legally allow, without rezoning or public hearings, up to four units (three storeys) or multi-tenant (e.g. rooming houses, group homes) on all residential lots, with the following requirements:   
An accessible ground floor unit (no stairs to the entrance, ground floor bedroom and bathroom;   
No displacement of existing tenants, meaning they could return to the same size unit for the same price;
Heights of up to six storeys would be allowed as of right on all streets with public transit, and up to 20 storeys within 100 metres of a rapid/transit train station;  
There would be no minimum parking requirements on lots within one kilometre of public transit;  
There would be a maximum new home size of 250 m2 to discourage monster home redevelopment.   
There would be a large incentive for 100% non-profit and affordable housing. These developments would be allowed as of right: up to 6 units (4 storeys) on all 'single family' residential lots, up to 8 storeys on all major streets with public transit, and up to 30 storeys within 100 metres of a rapid transit/ train station. Cities would need to regulate a 20% target of 2+ bedroom new homes, with minimum home sizes for new units of 30 m2 for studios, 50 m2 for a one-bedroom, 70 m2 for a two-bedroom, and 90 m2 for 3–bedroom. Municipalities would be further required to waive the following for non-profit housing: application fees, development costs, and property taxes for the first 10 years.  
Reducing average two-year approval times to 90 days through as-of-right zoning would result in much-needed homes being built quicker. In return, municipalities would receive funding to enable rapid rezoning, community planning, and staff to facilitate affordable housing retention and growth through a Housing Accelerator Fund.    
What Would It Cost? 
We would estimate the cost of a vastly expanded and targeted Two Million Home Program as $200 billion over 10 years. The current National Housing Strategy—with extremely modest targets of 150,000 new non-profit units and 300,000 renovated units—is budgeted at $80 billion. However, most money is being wasted on high-rent for-profit subsidization.  
With free leased government land and accelerated approvals and financing, low-cost new construction loans ($100,000 per studio, $120,000 for a one-bedroom apartment & $150,000 per 2–4-bedroom apartment) using a repurposed Rental Construction Finance Initiative, would be the basis. The loan would convert to a grant if a formerly homeless person or household (including women and children escaping violent relationships) remains in their home for a year. Grants to acquire new buildings and land for affordable housing, and to fund energy/access retrofits to existing landlords if and only if they maintain affordable rents, would also use funds from a repurposed Co-Investment Fund. Canada Housing Benefits would be targeted to new and acquired non-profit housing to maximize the effectiveness of these subsidies.  
Building a Future that aligns with the Right to Housing   
A Two Million Home program, starting in 2023 and extending to 2033, would allow the federal government to meet its 2028 housing need reduction targets, and 2030 chronic homelessness elimination targets, within a rights-based framework. It would offer an alternative to "drive until you qualify" for a generation of young households being pushed out of major cities.  
This proposal takes advantage of several large savings that have no direct government cost: land, zoning change, and low-cost financing through CMHC. It focuses on what each level of government does best: federal governments, with the largest sources of revenue, funding critical infrastructure; provincial governments funding adequate income support and health and social services; municipalities supporting integrated planning.   
Scaling up non-speculative housing allows retirement savings to go to other, potentially more productive, investments (e.g. green energy transition).  
A Two Million Home Program is one the quickest ways to advance new green technologies like modular and wood frame and achieve huge GHG reductions, including reduced commuting times, gas use, road construction costs etc.  
The majority of rental homes, and virtually all ownership homes, would still be in the private sector. Judging from the experience of countries like Austria and Switzerland, having a competitive non-profit rental sector exerts more powerful downward pressure on rents than an aggregate supply approach that results in grossly unaffordable rents.  
---
Key messaging:
Resources:
The Housing Assessment Resource Tools (HART) housing need analysis will be available in September 2022.
HART's land analysis of 13 cities (including Calgary, Edmonton, Ottawa, Greater Toronto and Hamilton area) will be available in December 2022.