On May 11, an urgent human rights review of homelessness among women, gender-diverse, and Two-Spirit people across Canada was announced by the Federal Housing Advocate.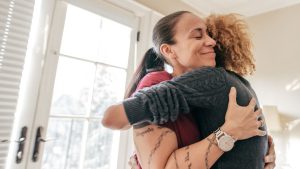 Last week, something historic happened.
On Friday, May 11, the Federal Housing Advocate directed the National Housing Council to launch a human rights-based review panel on the Government of Canada's failure to prevent and eliminate homelessness amongst women and gender-diverse people, and particularly those who are Indigenous. This issue has reached such a crisis point that the Federal Housing Advocate now recognizes it as one of the top human rights issues in Canada.
The Advocate's newly announced review is based on two powerful Human Rights Claims submitted by the Women's National Housing & Homelessness Network (WNHHN) and the National Indigenous Housing Network (NIHN) last year, highlighting the systemic and dignity issues of women, gender-diverse, and Two-Spirit people across the country.
This review panel process will give people with lived experience of gender-based homelessness and housing precarity—as well as frontline and civil society allies—an opportunity to share their experiences and solutions, and hold the government accountable in a way that was not possible before.
This will be the second human rights-based review panel to ever be conducted in Canada (the first of which is still ongoing, on the topic of "financialization"—more information here). These review panels are new oversight and accountability mechanisms under Canada's right to housing legislation, the National Housing Strategy Act of 2019.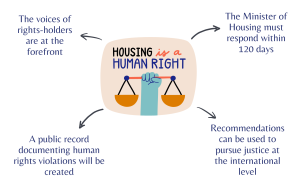 Why This Process Matters
Many of us now view new policies, legislation, and accountability mechanisms with skepticism. We see politicians cutting ribbons and governments releasing new housing strategies, but we still don't know how we'll afford next month's rent. In the midst of this severe housing crisis, it is fair to ask: will this review panel even make a difference?
Here are four reasons this process matters:
The voices of rights-holders are at the forefront of this process. Your testimony and expertise will directly inform policy recommendations and solutions.
The Minister of Housing must respond to the recommendations from the National Housing Council within 120 days, and table that response in the House of Commons and the Senate. This means that the Minister can't ignore the recommendations (as can happen with research reports), and these recommendations can inform important policy changes.
It will create a public record of the human rights violations being experienced by women and gender-diverse people who are homeless. This database can collectively be used to build legal cases and advocacy campaigns in the future.
We can use the recommendations from the National Housing Council to pursue justice at the international level, including through the United Nations system.
How to Get Involved
The next step is for the National Housing Council to officially announce their intent to proceed with the review panel. In the coming months, the review panel will invite people across Canada to provide written and oral submissions for their review.
Meanwhile, our partners at the WNHHN and NIHN will be organizing across the country to support evidence-gathering from people with lived/living experience homelessness and their allies to participate in this exciting human rights process. Here's how to get involved:
Attend their Informational Webinar on May 31 at 1pm ET/10am PT to learn about the human rights process and how to get involved
Invite the WNHHN and NIHN to attend a meeting with your group, organization, or agency (contact them at info@womenshomelessness.ca)! They can provide an overview of the process and how you or your group can get involved
Sign up for our National Right to Housing Network newsletter to stay updated on the review panel and more opportunities to get involved!