On January 24, the National Housing Council announced its intent to proceed with its very first review panel on the issue of "financialization of purpose-built rental housing," as requested by the Federal Housing Advocate.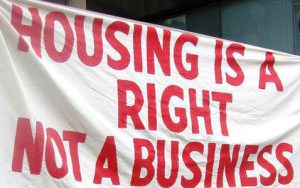 The National Housing Council's intent to proceed with this first-ever review panel marks a historic step forward for the right to housing in Canada.
Review panels offer a new form of justice which rely on public participation, and this will be the very first time the review panel mechanism under the National Housing Strategy Act (NHSA) is enacted.
In the coming months, communities affected by financialization—as well as relevant frontline workers, academics, human rights experts, and civil society actors—can take this opportunity to share their expertise and experiences directly with the review panel, and to offer up solutions that improve housing adequacy, equity, and respect for human dignity and rights.
Now is the time to get involved in Canada's first human rights-based hearing, to help advance the human right to adequate housing for all. Below is more information on review panels, financialization, and how to get involved.
What are "Review Panels"?
Review panels are one of the key oversight and accountability mechanisms created in Canada's right to housing legislation of 2019, the National Housing Strategy Act.
They offer a new avenue for access to justice that puts the experiences and dignity issues of most affected by Canada's housing policies and investments (or lack thereof) at the centre.
This is what a human rights process is all about: recognizing that our government's primary duty in housing is to ensure that all people have access to affordable and dignified housing that meets their needs, regardless of citizenship status, race, gender, or any other marker of difference.
To this end, review panels involve multiple open hearings which centre the experiences of communities most affected by the systemic human rights issue at hand, all of which is used as evidence for human rights-based findings and recommendations directed to the Government of Canada.
The findings and recommendations from these hearings will then be tabled in Canada's House of Commons and Senate, and the federal Minister of Housing will be required to respond with a plan of action within 120 days. This means there is clear accountability—the Government of Canada can't simply ignore the recommendations raised.
Learn more about review panels on the National Housing Council website.

What is "Financialization"?
The financialization of purpose-built rental housing refers to the treatment of rental housing as a commodity, financial asset, and tool for investor profit at the expense of human rights among tenants and tenancy-seeking individuals.
From unreasonable rent hikes to evictions and renovictions, poor maintenance, displacement of communities, and discrimination, financialization has hugely damaging impacts on the right to housing in Canada, particularly for already-disadvantaged groups such as seniors, low-income tenants, people with disabilities, members of Black communities, immigrants, and many others. Financialization is also associated with high risks of illness and death for seniors and people with disabilities in long-term care facilities, as found in research commissioned by the Office of the Federal Housing Advocate.
Financialized landlords not only extract wealth from the housing system and benefit from tax exemptions in Canada, but this process also contributes to rising inflation rates and loss of affordable housing stock.
Meanwhile, large corporate landlords like Real Estate Investment Trusts (and their shareholders) benefit most from financialization. Learn more about what financialization means—and how Canada can address it—here.

How to Get Involved
More information from the National Housing Council is expected to be announced in the coming months, including opportunities to make written or oral submissions on the issue of financialization. Our team at the National Right to Housing Network is monitoring closely, and will share more updates as they come out.
Sign up for our newsletter to stay updated on the review panel, and to learn more about opportunities to get involved! 
UPDATE: Written submissions for Canada's first-ever review panel are now being accepted! The deadline is August 31, 2023. Make a submission today!
---
Read More:
---
Quick Facts: 
The 2019 National Housing Strategy Act (NHSA) legally recognized adequate housing as a "fundamental human right" as it is defined in international human rights law. Canada has also been obliged to uphold the right to adequate housing under the International Covenant of Economic, Social and Cultural Rights (ICESR) since 1976. 
The Federal Housing Advocate's role under the NHSA is to investigate systemic barriers to adequate housing, hear from and amplify the concerns of people facing housing need, and drive forward Canada's realization of rights-based policies and systems so that everyone has access to safe, adequate, and affordable housing. The Advocate can also refer major systemic issues to review panels for open hearings, from which recommendations will be made to the Minister of Housing who must table a response within 120 days in the Senate and Housing of Commons. 
"The financialization of purpose-built rental housing" is the first issue that the Advocate has referred to a review panel. This issue of rental housing being used as a vehicle for wealth and profit accumulation by corporate investors has major negative consequences on housing affordability, habitability, security of tenure, and the health and wellbeing of tenants. It is also thought to contribute to Canada's eroding affordable housing stock.