Today, housing and human rights advocates across the country celebrate Canada's appointment of the long-awaited Federal Housing Advocate, Marie-Josée Houle—but over two years since the role was created via the National Housing Strategy Act and amid the COVID-19 pandemic, the housing crisis has deepened. We will need all hands on deck to dig ourselves out.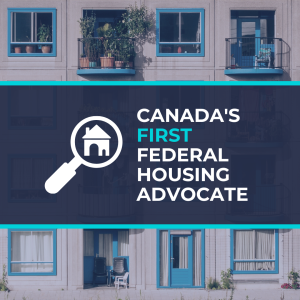 On February 3, the Minister of Housing, Diversity, and Inclusion—Minister Hussen—announced the appointment of Marie-Josée Houle as Canada's inaugural Federal Housing Advocate. Marie-Josée is a dedicated advocate, strong ally, and active Network member with over a decade of grassroots experience working directly with communities to secure their adequate housing. Her long-awaited appointment brings Canada one step closer to meeting its international and domestic human rights obligations to realize the right to adequate housing for all—but we will need all hands on deck to reach the finish line.
Systemic human rights violations mounting
With this appointment announced over two years after the role of the Federal Housing Advocate was created in the National Housing Strategy Act (NHSA), and amid an ongoing pandemic that is driving more and more people into inadequate housing and homelessness, violations of the right to housing have mounted. Among these systemic rights violations are:
New government accountability and oversight mechanisms
The Federal Housing Advocate, National Housing Council, and Review Panels are new human rights-based oversight mechanisms through which major systemic housing inequities can be investigated and addressed. They are independent bodies that improve government accountability and offer access to justice for people most impacted by inadequate housing and homelessness through meaningful engagement, public hearings, research, and recommendations issued to the federal Minister of Housing, who must respond within 120 days.
This participatory oversight and accountability process is premised on the principle that adequate housing is a fundamental human right, as stated in the NHSA legislation and international law. As such, all people are entitled to adequate housing (i.e., secure, affordable, accessible, habitable, culturally adequate, and well-located housing with necessary infrastructure) to live a life of dignity, well-being, and opportunity.
Under this new rights-based approach, all housing laws, policies, programs, and budgetary decisions should be rooted in meaningful engagement with affected communities and diverse stakeholders including people with lived experience of housing need, human rights experts, civil society, private actors, and every level of government. Moreover, investments in housing programs and policies must target those in greatest need using a maximum of available resources, which is quite a high standard for a wealthy state like Canada.
All hands on deck
Cross-sectoral, non-partisan, and whole-of-government collaboration will be critical to realizing the right to adequate housing and digging us out of Canada's deep housing crisis. In particular, the Minister of Housing—Minister Hussen, who will receive recommendations from the Housing Advocate, Housing Council, and Review Panels—will need to demonstrate national leadership in coordinating and implementing human rights-based policy and budgetary changes, in collaboration with other departments and levels of government.
The National Right to Housing Network looks forward to working alongside our new Federal Housing Advocate to engage with key stakeholders across Canada to drive forward the right to housing—but her appointment is only the beginning. We all have a role to play, and there is much more work to be done. Onwards.
"Systemic violations [of the right to housing] have broad causes and effects, often arising from the ways in which society is organized politically, socially and economically. It is often difficult to identify individual perpetrators who bear individual responsibility for systemic violations. The State as a whole will be responsible."

– UN Office of the High Commissioner on Human Rights
Key Questions, Answered
Quick Facts
The right to adequate housing was cemented in Canadian law on June 21, 2019 in the National Housing Strategy Act (NHSA)

The National Right to Housing Network formed soon after to mobilize a broad-based, grassroots civil society network to fully realize the right to adequate housing in Canada
Canada's National Housing Strategy—which holds all of our housing policies and programs—was created two year before in 2017 and needs to be updated to incorporate rights-based standards, program criteria, data-collection and monitoring processes, and meaningful engagement with communities, as outlined in the NHSA

The 2019 NHSA recognizes adequate housing as a "fundamental human right" as it is defined in international human rights law
The Federal Housing Advocate—alongside the National Housing Council and their Review Panels, which will hold public hearings on systemic housing issues—are critical human rights oversight and accountability mechanisms, ensuring that Canada upholds its obligations under the NHSA and ICESCR. In particular, the Advocate will:

Investigate systemic barriers to adequate housing
Hear from and amplify the concerns of rights-claimants facing housing need
Refer certain systemic issues to Review Panels for public hearings
Issue authoritative opinions and measures to address housing rights violations, drawing from research, engagement with affected communities, consultation with experts, and relevant international human rights norms
Issue recommended actions to the Minister of Housing and Diversity and Inclusion, who must respond within 120 days
Drive forward Canada's realization of rights-based policies and systems to address systemic housing issues, in line with the NHSA and ICESCR and in collaboration with all relevant stakeholders (i.e., rights-claimants, human rights experts, civil society, private actors, people with lived experience, and every level of government)