Though Budget 2022 is referred to as the "housing budget," it certainly isn't a right to housing budget—and that means already-marginalized folks will continue to bear the brunt of Canada's housing crisis.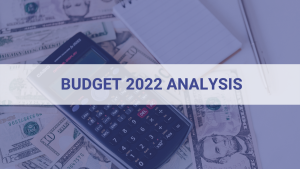 Canada's worsening housing crisis has been making headlines for years, and last week we finally saw it addressed in the federal budget. Minister of Finance, Chrystia Freeland, declared that "shelter is a basic need" and highlighted housing affordability as a top priority for Budget 2022 —but starkly missing was any acknowledgement of housing as a human right. 
It is critically important to remember that adequate housing was legally recognized as a "fundamental human right" in the 2019 National Housing Strategy Act, and this legislation is more than just pretty words. It demands that Canada implement the right to adequate housing for all as defined in international law—and international law requires that Canada target and prioritize the most vulnerable in any budgetary or policy decision about housing. 
Yet even in this year's "housing budget," our government has failed to target and meaningfully prioritize Indigenous peoples, racialized people, women and gender-diverse people, low-income households, persons with disabilities, rural and remote communities, and others in greatest housing need. In fact, there is not a single mention of housing as a human right in Budget 2022, and that signals that our government is not taking its legal human rights obligations seriously. This is cause for alarm. 
Let's dig in. 
The highlights of Budget 2022 
A strength of this year's federal budget is that it makes sizable investments in housing after decades of Canada withdrawing from the sector. This decades-long drought in federal housing investment has caused Canada's social and affordable housing stock to dwindle to approximately 4% of total housing stock since the 90s—largely at the expense of low-income and already-marginalized groups who are disproportionately affected by inadequate housing and homelessness. 
This year's $1.5 billion investments in both co-operative housing and the Rapid Housing Initiative are particularly positive given that these are both key sources of adequate and affordable housing for those in greatest housing need—but there could have been a much bigger focus on non-market housing, Indigenous housing, deeply affordable housing, and regulating private market actors. 
The human rights gap
As mentioned, the right to housing was utterly missing from Budget 2022 in both name and practice—a major cause for concern because at its core, the right to housing is simply about centering people's entitlement to safe, adequate, affordable, and long-term housing so that no one ends up desperate or homeless. It's about prioritizing basic human dignity and putting people before profit in Canada's housing sector. This should not be too much to ask in one of the world's wealthiest countries which we have seen respond urgently to other issues like the COVID-19 pandemic and via its latest $8 billion investment in defence. 
Yet in Budget 2022, we see troubling underinvestment in key areas like Urban, Rural, and Northern Indigenous housing. It is well-known that over 85% of Indigenous peoples live in urban centers and are disproportionately affected by inadequate housing and homelessness. According to the 2021 Parliamentary Budget Officer's report, 31% of shelter users identify as Indigenous whereas only 5% of the total population identifies as Indigenous. The 2019 National Inquiry into Missing and Murdered Indigenous Women and Girls also revealed that a lack of safe and affordable housing poses a barrier to fleeing unsafe situations and increases risks of violence and harm for Indigenous women.
The National Housing Council's recent report suggested that Canada invest a minimum of $6.3 billion into Urban, Rural, and Northern Indigenous housing over the next two years to begin addressing the stark housing disparities faced by Indigenous peoples. Yet Budget 2022 only commits $300 million over five years towards creating an Urban, Rural, and Northern Indigenous housing body—and not a single home. 
This huge underinvestment is not only a violation of Canada's right to housing commitments, but also the rights of Indigenous peoples (in both domestic and international law), the rights of women, and our supposed focus on reconciliation in this budget. 
Affordable for who? 
Economists have already told us that most tenants get nothing in Budget 2022: "two-thirds of tenant families do not qualify for housing supports and don't earn enough to aspire to own. What they need most is for out-of-control rents to be reined in." 
The fact is that while non-market housing is a key component for addressing Canada's housing crisis, the private sector can and should also play a part in the solution. Of course, this is only possible if the government meaningfully regulates these private market actors to ensure that they create and preserve affordable and adequate housing stock that meets the needs of the community, in line with a rights-based approach. 
Instead, Budget 2022 introduces affordability criteria for its supply-focused initiatives that remain out of reach for most low-income tenants and people experiencing homelessness. For example, the heavily-critiqued Rental Construction Financing Initiative, which offers loans for new construction, has a new affordability rate of 80% of average market rent that applies to 40% of units—a welcomed change, but still not affordable enough for the 13% of households in core housing need (with a median income of $23,227).  
An investor's housing market 
Canada also continues to delay in meaningfully regulating private investors, multi-property owners, and large corporate landlords in the housing market. Budget 2022 implements a house flipping tax and two-year foreign investor ban while promising to study "potential changes to the tax treatment of large corporate players that invest in residential real estate." Given that foreign investors make up only 5% of the housing market and foreign corporate landlords can easily create Canadian subsidiaries to become "domestic," these measures will not make a significant impact on housing affordability. 
Meanwhile, Real Estate Investment Trusts (REITs)—who make up approximately 20% of the market and are known for displacing and renovicting low- and middle-income tenants to significantly increasing rents—continue to benefit from tax loopholes in the real estate sector. Pre-pandemic data also tells us that multi-property owners owned between 15 to 41% of housing stock in many provinces across Canada—a trend that likely escalated during the pandemic thanks to low interest rates and huge equity gains seen among homeowners. This means that Canada is still allowing wealthy investors to benefit from tax exemptions and extract wealth from housing at the continued expense of renters, women-led households, low-income people, racialized people, and other marginalized group who will likely fall deeper into housing need. 
Even the promising Housing Accelerator Fund, which commits $4 billion over five years to support the rapid creation of housing supply at the municipal level, has no clear affordability criteria or allocation of funds to non-market housing. This means that these funds are at risk of being further exploited by large corporate landlords and REITs who have extensive influence in many municipalities across the country. 
This lack of action in tackling the structural causes of housing unaffordability—like profit-driven supply, private investment, and speculation—is another violation of the right to adequate housing. The rights-based framework requires that we close tax loopholes and apply "all appropriate means… including legislative measures" to ensure that the rules under which private actors operate (and their actions) enable the creation and preservation of adequate and affordable housing.
Addressing these structural and regulatory gaps wouldn't cost anything other than political will. In fact, Canada would actually save money by closing tax loopholes—and that tax revenue could then be directed towards "affordable housing, subsidies for low-income households, the creation of land banks and other resources to support housing strategies" as per international human rights guidelines.
Final thoughts 
While it is good to see the federal government invest in the housing and homelessness sector, this year's budget falls short on targeting those who are most affected by homelessness and housing need in its investments and affordability criteria. 
The budget's focus on homeownership leaves behind diverse renters who make up 66% of households in core housing need. Further, Budget 2022 lacks clear measures to rein in profit-seeking interests which continue to drive up the cost of housing across the country—both for tenants and aspiring homebuyers whose incomes cannot keep up (despite measures to make ownership more affordable).  
While some recommendations from advocates in the housing and homelessness sector have been implemented in Budget 2022, they are so watered down that the urgency and discriminatory impacts of this housing crisis are not being addressed. Canada's housing policies, programs, and investments will need to be meaningfully revamped using a rights-based approach if Canada is to truly address this housing crisis and honour its legal commitments to housing as a fundamental human right. 
 "Two-thirds of tenant families do not qualify for housing supports and don't earn enough to aspire to own. What they need most is for out-of-control rents to be reined in." 

– Canadian Centre for Policy Alternatives
Check out these other budget analyses from some of our partners: